Category Archives:
God's Promises
by Kristen C. Strocchia
"Whoever has  ears, let them hear what the Spirit says to the churches. To the one who is victorious, I will give some of the hidden manna. I will also give that person a white stone with a new name written on it, known only to the one who receives it." Revelation 2:17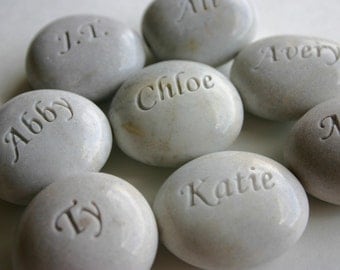 This is the third church so far to whom Christ has commanded the people to hear Him, His Spirit's words to them. And for the third time, He promises something to the one who is victorious. Victory played a big part in the Greco-Roman culture with arenas and wars. To the victor went the spoils and great honor. But what God can give us is far greater than any earthly reward for victory.
So how can a Christian be victorious? To the Ephesians Jesus commanded them to restore their first love, to put Him first again. In this way, they would be victorious and gain access to the true tree of life. To the Church in Smyrna Jesus commended their faith and commanded them to be faithful even to death. In this way, they would be victorious and gain protection from the second death. To Pergamum He commands repentance from compromise. In this way, they would be victorious and gain miraculous provision–hidden manna–and an invitation to a divine party.
In this time period, when the Caesars would hold banquets, they sent out invitations–white marble with the invitees name engraved on it. How much more should we desire to receive an invitation from Christ to the divine banquet in heaven.
Each of these commands and promises are essentially the same, yet personalized to the cities' challenge. All were commanded to get/keep their relationship with Jesus Christ right. And all were promised eternity for doing so.
What has Jesus commanded you to right in your life? Check your relationship with Him carefully and tend to those needy areas. If you are victorious in holding to your faith in Christ, then just like the seven churches of Revelation, you too will receive eternal life.
by Kristen C. Strocchia
"To the angel of the church in Smyrna write: These are the words of Him who is the First and the Last, who died and came to life again. I know your afflictions and your poverty–yet you are rich! I know about the slander of those who say they are Jews and are not, but are a synagogue of Satan. Do not be afraid of what you are about to suffer. I tell you, the devil will put some of you in prison to test you, and you will suffer persecution for ten days. Be faithful, even to the point of death, and I will give you life as your victor's crown. Whoever has ears, let them hear what the Spirit says to the churches. The one who is victorious will not be hurt at all by the second death." Revelation 2:8-11
Unlike the other churches of Revelation, the church of Smyrna received all accolades and encouragements from Jesus.
To them He calls Himself the First and the Last. And Jesus' eternality is an important comfort to the Smyrnian Christians. They suffered affliction. They lived in poverty, but they had spiritual wealth that the world around them couldn't understand. They were lied about by religious phonies. And they were about to experience even more trouble–prison, persecution, and possibly death.
The victor's crown that Jesus spoke about was the olive wreath worn by champion athletes in Roman arenas. Those from Smyrna knew this cultural allusion well, though as Christians under the reign of Domitian, their only arena games were likely unarmed, deadly bouts with lions.
Jesus tells it like it is. You will suffer. You might even die. But then I–the One True God–will crown you the victor. Greater than any reward that a Caesar, who put himself in the place of God, could ever bestow–Jesus offered life, eternal life, to the faithful Christians who endured.
And after exhorting them to hear Him over the din of the world, He reaffirms that in the victory secured by their faith, the Smyrnian Christians would not experience the sting of second death [1 Corinthians 15:55; Revelation 20:14]. Because Jesus is the First and the Last, the beginning and the end. He was and is and is to come [Revelation 1:8 & 4:8]. His victory over death, hell and the grave is the promised reward to the faithful, and He alone is able to make such a promise.
Jesus is calling us to endure today, much as He did with the church of Smyrna centuries ago. Do you fix your eyes on spiritual abundance over physical wealth? Will you be faithful however far the world pushes you? Can you discern God's voice over the din? If so, remain faithful. He has a crown of life with your name on it.
by Kristen C. Strocchia
"And God said, 'This is the sign of the covenant I am making between me and you and every living creature with you, a covenant for all generations to come: I have set my rainbow in the clouds, and it will be a sign of the covenant between me and the earth. Whenever I bring clouds over the earth and the rainbow appears in the clouds, I will remember my covenant between me and you and all the living creatures of every kind. Never again will the waters become a flood to destroy all life." Genesis 9:12-16
Wedding rings are not themselves a promise, but just a sign of a promise that was made. Whenever a husband and wife see or feel the circle of gold on their finger, they remember the promise that they made to be faithful to one another.
So the rainbow is a sign of God's faithfulness to His promise.
However, He didn't just promise human beings, but every living creature whose existence is bound to ours. Adam and Eve were charged with stewarding the animal kingdom [Genesis 1:26]. Noah obeyed the command to receive and tend the animals in the ark [7:2-3]. Likewise, we ought to recognize that our choices and our end are not ours alone. When the earth was destroyed in the flood, it didn't merely destroy precious habitats, but all animal life–except for those contained in the ark–perished along with sinful mankind.
God holds back His return out of love for His creation. But He will not hold it back forever [6:3].
At this point, it's imperative to draw a distinction between mythology and the Bible. Myths use fictional stories to explain natural phenomena to a culture that didn't understand the scientific truth. The Bible, however, teaches scientific truths behind natural phenomena and explains how these truths testify to the Almighty God.
Take the rainbow for example. Mythologies would offer an explanation such as this:
A beautiful maiden, favored of the gods, received suitors from near and far. Each brought a precious stone from their homeland and laid it at her feet. They would know whose heart she had chosen by whose stone she wore around her neck on the day of the great feast. But the maiden could not choose. Instead she made her necklace of every stone. The suitors became jealous of one another waiting for a decision and began to war with one another, but the gods admired the maiden's loving wisdom. So when the war came to her palace gates, the gods whisked her safely into the air. Her necklace fell away behind her. To this day, her many stoned necklace appears on the warring clouds of storms, as a rainbow.
But notice how God says that He set His rainbow in the skies. Revelation describes the throne room of heaven, and God is, in fact, encircled by a rainbow that shone like an emerald [4:3], and the New Jerusalem's foundation is inlaid with ascending layers of precious stones coming in every color of the rainbow [21:19-20].
Being surrounded Himself by rainbows, God knows full well how they form. He allowed this piece of His heavenly throne room to manifest itself on earth, and He says that the rainbow will appear in the clouds–not that He sends each one, but that He set in motion the science behind the natural processes that give us rainbows…air, water and light.
And the purpose of this rainbow is to remind Him that even though sin brews like a storm on the earth, He promised never to destroy the entire earth in floodwaters again. Local floods will happen, but there will always be a refuge of dry ground.
Do you believe that God is faithful to keep His promises? Do you know the promises that He has made to us in scripture? Become a students of God's Word so that you can stand in faith.